Security Advisor to Manipur government Kuldiep Singh Image Courtesy ANI
The situation in Manipur remained peaceful and under control as no incident of violence was reported in the last 48 hours in the Northeast state, Kuldiep Singh, advisor (Security) to the Manipur government said on Thursday.
To provide relief to the displaced people of Manipur, Singh said the Ministry of Home Affairs (MHA) has approved a relief package worth Rs 101.75 crore.
The MHA's approval of the relief package for the displaced in Manipur followed Union Home Minister Amit Shah's direction to the state government to send a request to his ministry for such a package.
Related Articles
Amit Shah launches Sahara Refund Portal, says genuine depositors to get money back within 45 days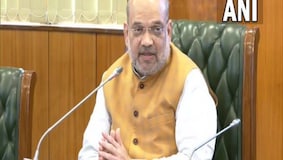 Jammu and Kashmir: Amit Shah speaks to Lieutenant Governor, takes update on Amarnath Yatra
As per Singh, a total of 27 arms, 245 ammunition and 41 bombs in Porompat Police Station under the jurisdiction of Imphal East district of Manipur and one arm and two bombs in Bishnupur district in the state have been recovered during the last 24 hours.
"A total of 896 arms and 11,763 ammunition and 200 bombs of different kinds have been recovered to date," said Singh, who was appointed security advisor to the Manipur government at the beginning of May in view of the spiraling violence in Manipur.
The retired Indian Police Service officer from the 1986 batch said curfew was relaxed for 12 hours in five valley districts, and 10 hours and 8 hours in neighboring hill districts.
"There is no curfew in six other hill districts. Movement of essential items along NH-37 is ensured. A total of 294 empty vehicles have left Imphal for Jiribam today. A total of 220 loaded vehicles have left Noney and 198 loaded tankers and trucks have left Jiribam today," the former Central Reserve Police Force chief said.
Senior officers have visited and camped in vulnerable areas, said Singh, adding "Strict security measures are taken up in all vulnerable areas."
Singh said a combined team of Manipur and central forces have intensified combing operations in many parts of the state.
"Ministers and MLAs are visiting different areas of the state, appealing for peace and normalcy by meeting the public at large and CSOs. Security forces are also organizing meetings with CSOs, heads of different villages and appealing for peace and normalcy, besides doing their duties of area domination and patrolling."
A day after Union Home Minister Amit Shah's appeal on June 1, a total of 140 weapons were surrendered at different places in Manipur on June 2. The weapons surrendered included SLR 29, Carbine, AK, INSAS Rifle, INSAS LMG, .303 Rifle, 9mm pistol, .32 pistol, M16 rifle, smoke gun and tear gas, a locally made pistol, a stun gun, modified rifle, JVP and grenade launcher.
The positive development was noted after the Home Minister's four-day visit to Manipur that ended on June 1.
Shah had then warned that strict action would be taken against those found possessing weapons during the combing operation by the police.
He had also appealed to the people of Manipur not to pay heed to rumors and maintain peace. On behalf of Prime Minister Narendra Modi Government, the Home Minister had also expressed deep condolences to the families of those killed in Manipur violence.
Manipur saw violence on May 3 during a rally organized by the All Tribals Students Union (ATSU) to protest the demand for the inclusion of Meitei/Meetei in the Scheduled Tribe (ST) category. The march was organized in protest against the demand for inclusion of the state's Meitei community in the ST category, following an April 19 Manipur High Court directive.
Read all the Latest News, Trending News, Cricket News, Bollywood News,
India News spirit Entertainment News here. Follow us on Facebook, Twitter and Instagram.